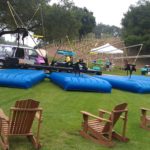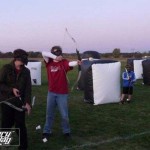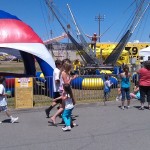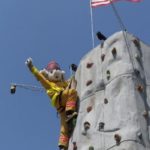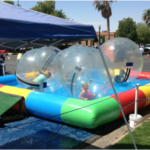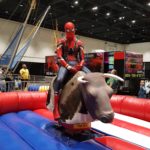 Aarons Amusements provides Inflatable Rides, Games, and Bouncy rentals for; Special Events, Festivals, Jubilees, Fiestas, Birthday Parties, Bar Mitzvahs, Church fundraisers, School carnivals, Street festivals and Parties through-out California.
Eurobungy – Experience the sensation of being totally weightless with the adrenaline rush of a bungee jump on this bouncy bungee jumping inflatable trampoline rental.
Archery Tag– Archery Tag™ is hitting the scene with a brand new twist. With foam-tipped arrows, you are in competition to be the supreme hunter. A game of survival, this is a high energy, fast-paced event.
Mechanical Bulls – All aspects of the Bull's movements can be controlled so that Aaron's Amusements can provide the appropriate ride for kids from 7 to 70 years old.
Wake Attack – Rent this inflatable to do front and backflips with safety harnesses. Kids are able to bounce, flip, and practice wake or snowboard tricks at will while being safely secured in the safety harness of the Wake Attack.
Water Wars –  Opponents go to opposing battle stations with buckets of water balloons, each battle station has a water balloon launcher, place a balloon in the launcher, pull down on the handle, aim, and fire!
Water Bobbles  – This the most innovative and fun inflatable you will find. Just enter the pool where you can walk, jump, roll, and float on the water.
Rock Walls – Mobile Climbing walls tower are an impressive 24 feet high! Our walls can accommodate up to four climbers at a time and up to 60+ people an hour with routes designed for beginners and expert climbers!
Cell Phone (559) 706-7072
Email : aaronsww@comcast.net

---
San Jose Mechanical Bull Rental – San Francisco Mechanical Bull Rental – San Luis Obispo Mechanical Bull Rental – Sacramento Mechanical Bull Rental – Modesto Mechanical Bull Rental – Merced Mechanical Bull Rental – Fresno Mechanical Bull Rental – Bakersfield Mechanical Bull Rental – Madera Mechanical Bull Rental – Los Angeles Mechanical Bull Rental